If you are a fitness freak who finds peace in the gym and satisfaction in keeping your body fit, then Arth skin and fitness is just the right place for you. We here at Arth Skin and Fitness, provide you with state-of-the-art Gym equipment which is unique in Udaipur, there to help you with targeted exercises and fitness training.  Your body is your temple and we are with you in your journey of taking care of it.
Arth skin and fitness takes pride in its facilities and services. We have world-class gym equipment and highly trained gym trainers, just for you. Our machines are specifically designed to get you on with your daily gym routine and also state of art equipment to give you a special experience. Our machines are the most updated ones in Udaipur at the best and affordable prices. From equipment for losing weight, shaping your body, gaining weight to strengthening your muscles, Arth skin and fitness has it all 
AB COASTER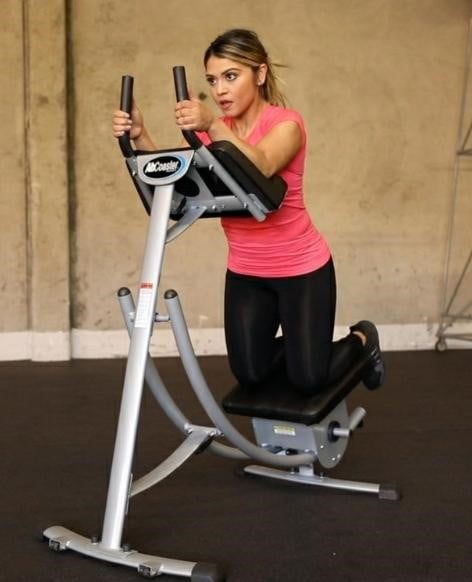 (photo credit: used fitness sales)
Poor core muscles can lead to chronic back pain and a weak pelvic floor. To fight this menace and help you develop strong core muscles, Ab Coaster entered the gym world in 2007. Now available for the first time in Udaipur, only in the Arth skin and fitness gym. Using its magic you can not only complete your dream of achieving a thin body but can also strengthen your core muscles for a long and healthy life. Used by athletes to build strong muscles and abs, this machine is available now in your city. With Arth skin and fitness, abs sculpting isn't a dream anymore.
 ADVANTAGES OF AB COASTER
GET YOUR DREAM SIX ABS
HIGHER CORE STRENGTH FOR ENHANCED VITALITY
FOCUSED ABDOMINAL WORKOUTS
EASY TO OPERATE
QUICKER RESULTS
curved-belt manual treadmill
(photo credit: simply faster)
In high demand among athletes, curved-belt manual treadmills are said to be better than the motorized treadmill as users can get their heart rates into a higher zone at a lower speed. Studies have proven manual treadmills to be more effective than motorized ones, now available for the first time in Udaipur at Arth skin and fitness center. Now attaining a fit body isn't a distant dream, it's a possibility and a reality that Arth skin and fitness helps you attain with its world-class gym equipments like curved belt manual treadmill
  ADVANTAGES OF CURVED BELT MANUAL TREADMILL
HIGH-INTENSITY WORKOUT FOR HIGH-CALORIE BURN
EASY TO OPERATE
EMPOWER YOUR MUSCLES FOR GREATER STRENGTH
SAFE AND HANDY
TYRE FLIP
(Photo credit: Alibaba).  
Bringing to Udaipur its first tire flipping equipment, Arth skin, and fitness again bless your gym routine with an engaging exercise. Now strengthen your posterior muscles and increase your power with a fun workout routine. The amazing thing about tire flipping equipment is how it clubs fun and robustness together to get you the best results. Loud grunts and showcasing your strength while flipping a giant tire- it's exactly what it sounds like. With Arth skin and fitness, now have fun while growing your muscles. 
 ADVANTAGES OF TIRE FLIPPING
ENHANCES YOUR STRENGTH AND COORDINATION
INCREASES YOUR WORK CAPACITY AND STAMINA
EMPOWER YOUR MENTAL TOUGHNESS
INCREASES YOUR CORE, ARM & FOREARM STRENGTH 
STAIR MILL
 (photo credit: amazon)
Arth skin and fitness believes in authenticity and originality, with that spirit we bring to you Udaipur's first step mill ever. Used to do the most intense climbing workout, this challenging exercise burns a humongous level of calories. This equipment is in high demand among athletes because of its ability to be a complete package for a strong body. From cardio to core muscle strength, Arth skin and fitness introduce to you the complete package for your workout routine. Be the best with Arth skin and fitness, your body matters.
 ADVANTAGES OF STAIR MILL
BUILD YOUR MUSCLES 
BURN 10 TIMES MORE CALORIES
STRENGTHEN YOUR WILLPOWER
MORE POWERFUL BONES FOR BETTER STRENGTH
BOLSTER YOUR LEG MUSCLES LIKE ATHLETE
All this awesome equipment at such affordable prices are now possible at ARTH SKIN AND FITNESS CENTRE. Come let's club fun and health together.
 Choose Arth, Choose quality
For More Information Contact –
Dr. Arvinder Singh
MBBS, MD (Gold Medalist)
Clinical Cosmetic Dermatologist and Pathologist
International Certified and Trained from
USA, Germany, Canada and Sweden
Face Injector, Botox and Derma Filler, Body and Face Shaping Specialist
www.drarvindersingh.com
23 years of experience
Contact: +91 855 985 5945