Arth Dr. Arvinder Singh Honored In Cosmetic Dermatology From Maharashtra Governor
Governor of Maharashtra felicitates Dr. Arvinder Singh for his achievements in Cosmetic Dermatology
Dr. Arvinder Singh, MD and CEO of Arth Group, Udaipur was felicitated by Mr. Bhagat Singh Koshyari, the Hon'ble Governor of Maharashtra. This felicitation was in recognition of the exemplary services provided by Dr. Arvinder Singh in the domain of Cosmetic Dermatology, Face Aesthetics and Cosmetology.
Credited with establishing India's first Quality Certified Cosmetology services institute, Arth Skin and Fitness in Udaipur, Dr. Arvinder also holds the distinction of being Rajasthan's first Board Certified Cosmetic Dermatologist and Aesthetic Physician.
The felicitation by the Governor also recognises Dr. Arvinder's comprehensive research efforts in Beauty Science and deploying the knowledge and experience towards successfully catering to thousands of patients in need of such treatment and therapy. The expertise at Arth Skin includes, but is not limited to, laser hair removal, treatment of acne, cleansing of acne marks infested skin, treatment of skin pigmentation, treatment of obesity and fat removal, etc. The treatment procedures and therapy are state-of-the-art and of international standards.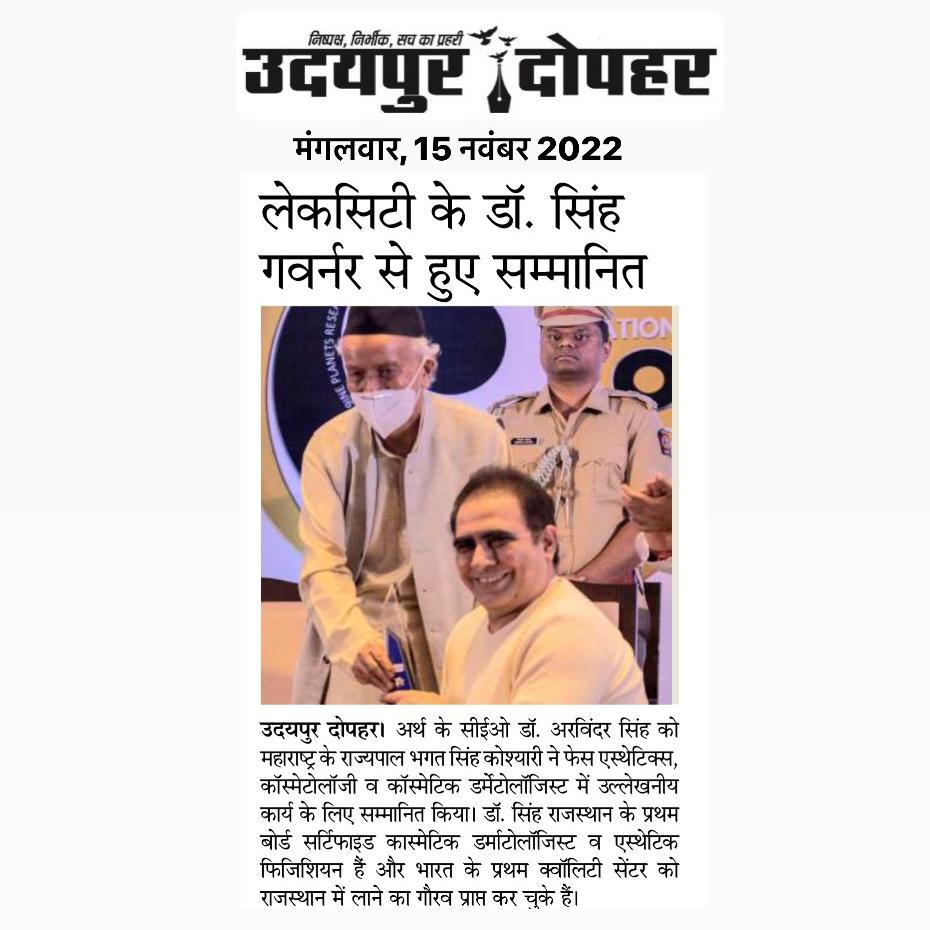 Read More
 For More Information Contact : –
Dr. Arvinder Singh
World Record Holder For Academic Excellence
MBBS, MD, MBA (IIM) – Gold Medalist
International Board Certified Cosmetic Dermatologist and Aesthetic Physician
Board Member of International Education Board, UK
Clinical Cosmetic Dermatologist (Canada)
Diploma in Medical Aesthetics & Cosmetology from American Association and
American Council (USA)
Fellowship in Facial Aesthetic & Clinical Cosmetology (Sweden &
Germany)
Grand Master Accredited Certified Trainer in Clinical Cosmetology and
Aesthetics (London, UK)
International Faculty Head of IEB, UK
Trained and Certified from USA, Germany, Canada, and Sweden.
Face Injector, Botox and Derma Filler, Body and Face Shaping Specialist.
To know more
Call: +91-9929093266, 7073111777,
Reach: 3rd Floor, 4C Arth Building, Behind Bhartiya Lok Kala Mandal, Udaipur