Arth got honor in Israel for skin treatment based on best technology, qualified doctors and world records.
Arth Group got honored in Israel for skin treatment Based on the best technology, qualified doctors, and world records. Arth Skin was recently honored by the world's top Aesthetic Laser Company, ELMA in Israel. This recognition was given to Arth for the latest laser technology, advanced skin treatments, and world record in India. Arth Group has performed thousands of skin treatments showcased results and research as well as panel discussions on topics such as lasers suitable for Indian skin and the latest medical facials, pigmentation, facial acne, and laser hair removal.
The seminar also discussed in detail the technologies of the near future that can bring a revolution in the field of laser treatment and beauty. Dr. Arvinder Singh, CEO of Arth Skin, said that he is committed to bring the modern and best technology to India. This honour was received by Dr. Arvinder Singh, Director of Arth Skin, and Dr. Deepa Singh, Director of Arth Skin, on behalf of Arth Skin.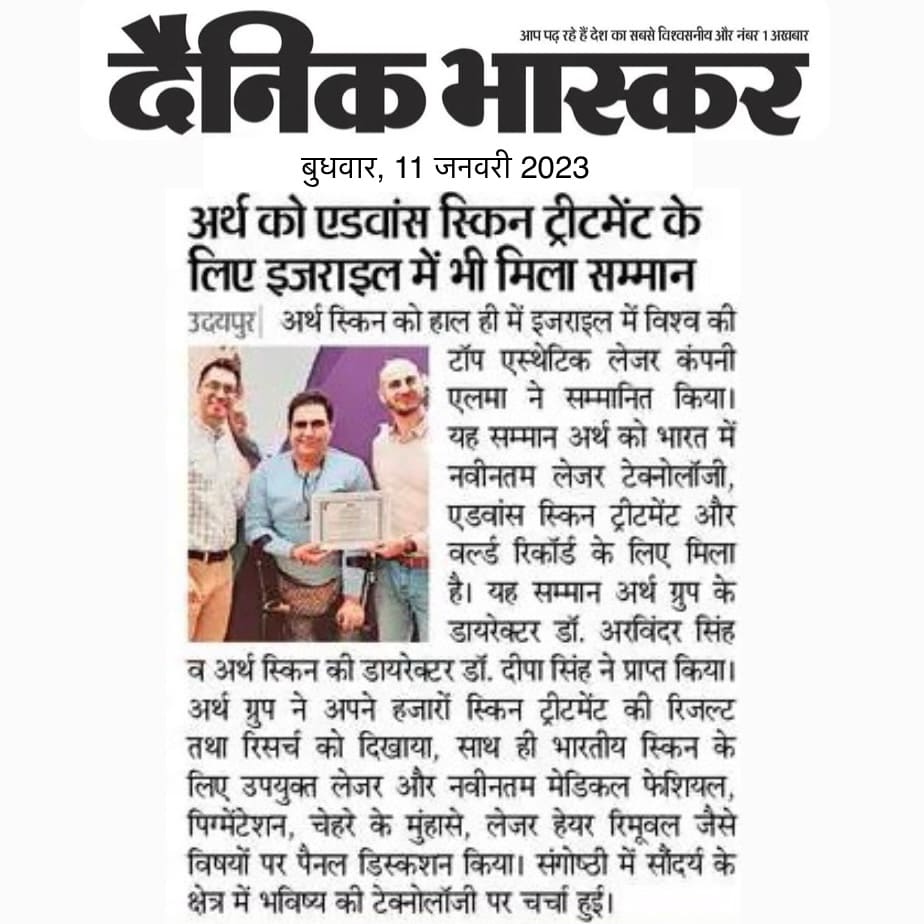 For More Information Contact : –
Dr. Arvinder Singh
World Record Holder For Academic Excellence
MBBS, MD, MBA (IIM) – Gold Medalist
International Board Certified Cosmetic Dermatologist and Aesthetic Physician
Board Member of International Education Board, UK
Clinical Cosmetic Dermatologist (Canada)
Diploma in Medical Aesthetics & Cosmetology from American Association and
American Council (USA)
Fellowship in Facial Aesthetic & Clinical Cosmetology (Sweden &
Germany)
Grand Master Accredited Certified Trainer in Clinical Cosmetology and
Aesthetics (London, UK)
International Faculty Head of IEB, UK
Trained and Certified from USA, Germany, Canada, and Sweden.
Face Injector, Botox and Derma Filler, Body and Face Shaping Specialist.
To know more
Call: +91-9929093266, 7073111777,
Reach: 3rd Floor, 4C Arth Building, Behind Bhartiya Lok Kala Mandal, Udaipur